The following article is sponsored by Spalk – Crowd Sourced Sports Commentary. To learn more, you can visit http://www.spalk.co.
Imagine broadcasting any event, anywhere in the world, at any time. With millions of games and events going on in the world at any one time, the choice and opportunity for sportscasters is better than its ever been. Not long ago, I broadcast a FIBA U17 World Cup game in Cairo, Egypt. And while it would have been an amazing experience to tour the pyramids and the city of Cairo, I settled for my home office and called the game live for FIBA using Spalk.
Spalk is a developing initiative that allows for crowd sourced sports commentary. Essentially sportscasters can either upload a recorded game, or connect a live stream to provide their own broadcast. The service then outputs a single stream with both the game sounds, and a sportscasters call on it. You can check out my call of a basketball game here and see how convincing it sounds.

So just how do you "Spalk"?
First, head to http://www.spalk.co/ and create a commentators account. This will give you access to the full suite of services that Spalk provides, allow you to upload or pair games and also give you the option to commentate of existing games.
Uploading your own live stream is simple, as the website is compatible with many popular streaming services including YouTube. Simply include the link and some information about the game and you're good to go. Uploading a game is equally as simple and can be done through the same steps.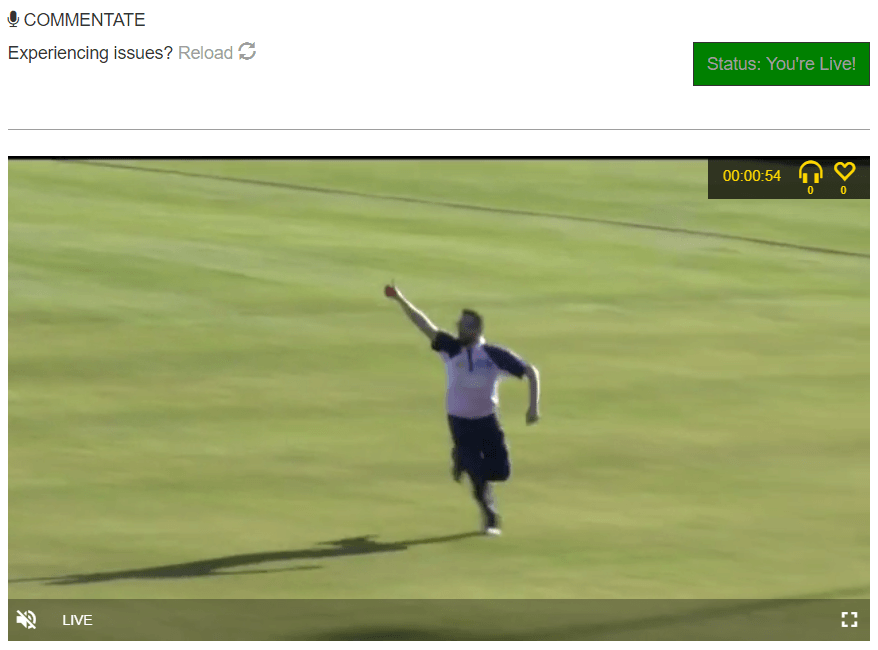 Once your game is uploaded or synced, you can get to broadcasting. Find your game (or a game you want to call) and click the yellow "Commentate" button on the right hand side of the page. After a quick audio check, you'll be taken to the Studio where you can hit play and begin your broadcast. Your call is automatically synced with the video and recorded for posterity. You can share your game link easily on social media as well.
For best results, it's suggested you use a similar setup for Spalk as you would use on a live game. This means a mixer and headset plugged into your computer that Spalk can detect and use. While everything will work with any microphone, including an in-built laptop mic, the sound won't be nearly as clear or realistic in the final product.
Where Spalk really stands alone is in the multi-broadcaster option. Each game is not limited to just a single voice, but rather multiple streams of commentary. While this has great applications for situations like home and away broadcasts, the real winner is for multi-lingual calls. At the recent FIBA U17 World Cup in Cairo, Spalk hosted broadcasters from different corners of the globe, providing multi-lingual commentary on many of the games.
Broadcasting games off a monitor is the way of the future for sportscasting. With developments in internet speeds and availability over the last 5-10 years, it's now possible to remotely broadcast events from anywhere in the world. This makes it more financially feasible for networks to cover different events if they're able to do so from a studio in a central location, rather than pay for flights, hotels, meals and other expenses to send a crew.
Spalk is ahead of this trend and providing many great avenues for sports broadcasters to not only hone their skills, but to showcase them to a new audience and to extend their talents into different sports.
You can find out more information about Spalk, by visiting http://www.spalk.co, https://www.facebook.com/sportscommentary/ or https://twitter.com/SpalkTalk