Video is a powerful tool in the sportscasting industry. I've been lucky enough to have taken a bit of a different route than most, doing some extensive technical training in television production before getting involved in play-by-play. That training included real-world work on a variety of different editing platforms ranging from free consumer products, all the way to programs that feature films are cut on.
For most, video editing will be limited to cutting up highlight packages or producing an interview. However some may want to take it a bit further and make recap shows or produce elaborate promotional videos. In this post I'll look at some of my favourite video editors that I've used, and comment on why they're both good and bad for sportscasters to use.
In reverse order of preference: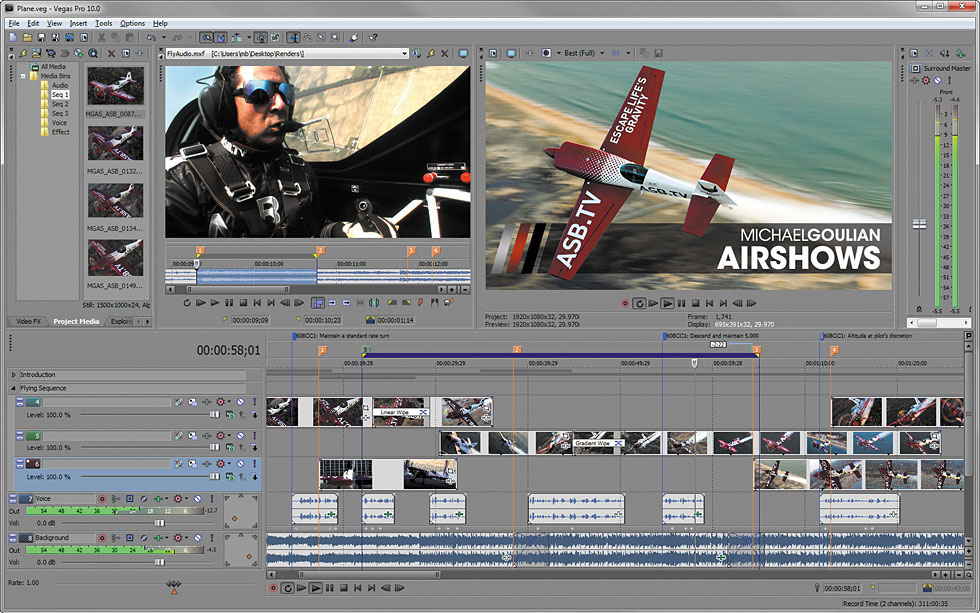 (3rd) – Sony Vegas Pro (link)
You'll see this program pop up regularly on The Sportscaster Blog because it is hands down my favourite audio editor for feature work…and that's because it started as an audio editor but has since evolved into a pretty handy video editor too.
It's a program that has a very intuitive layout, provides an outstanding suite of audio effects and tools, with a fairly decent collection of video goodies as well. It handles HD video comfortably and it's easy to drag a clip in, cut a highlight and export. However more elaborate things like graphics and animation are more cumbersome and better left to other programs.
If you're looking for something to import clips into, trim and export out, then Vegas might be the one to grab, particularly if you don't want to have lots of programs on your computer. I use this for all my major audio production, but have dabbled a little in its video capabilities.
With the help of 3rd party plugins, you can export and upload directly to YouTube and other social media networks, which is a handy feature. The Vegas family does have a dedicated Movie editor called MovieStudio, however I haven't used it.
Pros: Outstanding audio tools, excellent workflow and intuitive controls, more than capable of being the "only" editor (audio and video) that you need.
Cons: Not designed to be a video editor, more detailed tasks require extra time/attention than other programs, price point ($599)
——————-
(Tied 1st) – CyberLink Power Director (link)
CyberLink is one of the most popular prosumer editors out there. It started out and is geared to semi-serious video editors wanting the leg up on the average home movie, but not wanting to invest the time and money into a fully professional editor. Its interface somewhat resembles a professional editor, however has been consumerized to afford users an easy learning curve.
Power Director contains all the goodies you'd want as a sportscaster, allowing you to import, trim and export highights, produce basic commercials with some simple effects and transitions, and even use a pretty decent green screen effect to put yourself into virtual studios if you so wish. While all the features are there, they're not at the level in my opinion of more professional setups, and are again geared more towards the home movie than a feature presentation. I will clarify this paragraph with the fact that each version does get better and better with the effects the program has included with it.
There are two areas though which make Power Director a favourite of mine. One is its social media interaction. From within the program you can export and upload directly to YouTube (including all your video information), and even have it shut down after exporting which is great when it's midnight and you're on the road. Secondly, Power Director has a fantastic mobile app that is currently available for Android and Windows devices. The app is obviously slimmed down a little, but is still a robust editing tool.
Pros: Mobile app, ease of use, easy to pickup and edit right away, in-program exporting to YouTube and other social media destinations.
Cons: A little gimmicky, geared more towards home movies, price point ($70-170, depending on version).
——————-
(Tied 1st) – Adobe Premiere Pro (link)
The Adobe Premiere range is one of the main industry standards in television and film, along with programs like Final Cut (Mac only) and Avid (Mac and PC). It's a professional-level editor with a full suite of features ranging from excellent green screen capabilities to visual effects. It is an excellent editor to do everything a sportscaster might want to do from a simple highlight clip or pack, to feature length shows or promotional elements like commercials.
I mentioned the big three above (Final Cut, Avid and Adobe), because they are not only excellent programs but they are also very much alike…meaning that if you learn one, you have a very good leg up on the other two. Final Cut changed its approach with the release of Final Cut X a while back, which received some negative reviews, but if you're able to withstand the learning curve on one of them, you're well set up on all three and it could make a nice addition to the resume.
I currently run Adobe Premiere 5.5, which is several years old from the current Adobe Premiere CC (Creative Cloud). The reason for this is two-fold…first, many of the newer versions contain features and upgrades geared towards movie makes. And secondly, my computer is a few years old and runs the slightly older version very smoothly.
The program comes pre-loaded with several export settings, including a couple of HD ones for YouTube which make exporting very easy. However unlike other programs on the list, there is no in-built upload feature, meaning you have to export a file, then log in to YouTube on your web browser and upload from there.
Pros: Fully featured video editor, easy export to YouTube (via computer), plenty of tutorials/help available online, industry standard.
Cons: Price point (current version is around $200, with an "Elements" version for $100), steep learning curve, no auto-publish to YouTube (must export a movie file, then upload), needs a powerful computer to run it.
——————-
There you have it. You might have noticed that all three options I provided are paid programs, which may not be what you're looking for. I certainly think that if you're serious about doing more video as part of your sportscasting assignments, the investment of a couple of hundred dollars is a sound one. However here are a couple of free alternatives that I've used:
Windows Movie Maker – Used to ship with Windows, but is now a download from the Windows site. Simple, easy, no frills.
iMovie – The Mac answer to Movie Maker. A few more frills, aligns closely with Power Director in its lean towards home movies.
Lightworks – This was apparently used (in part or full) to edit the Wolf of Wall Street. It's an impressive tool that I haven't spent much time with getting to know. There is quite a steep learning curve, and while they have a pay version available, there is a fully featured free version that promises some very cool features if you have the time to learn it.